Recognize, Appreciate, and Celebrate
Whether it's products that support physical well-being, or the opportunity to experience better financial security, 4Life lives by the philosophy of Together, Building People®. Our recognition program serves as an extension of this core value and is based on the appreciation and edification of our family of distributors.
Learn more about 4Life rank advancements.
President's
Club
Meet the prestigious group of new President's Club members!
Carlos Lenin Roa & Marjury Chasi

International Diamond

ECUADOR

Carlos Rocha

Gold International Diamond

COLOMBIA
Distributor
Achievements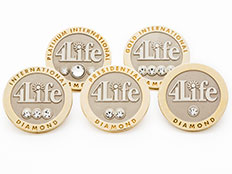 Summit
Platinum Edition

Lilly & Angel Sánchez
Platinum International Diamonds

Platinum International Diamonds Lilly & Angel Sánchez from Dominican Republic share their exciting journey to success with 4Life.
Latest Rank
Advancements
建銘 陳

- HONG KONG

Diamond

Alexander Sena

- INDONESIA

Diamond

Ziming Li

- US

Presidential Diamond

Son Jong Ki

- SOUTH KOREA

Presidential Diamond

Julio Cesar Salinas Guzman

- BOLIVIA

Diamond

Soon Ae Kim

- US

International Diamond

Geraldine Quibod

- PHILIPPINES

International Diamond

歐芳采(OU, FANG CAI)

- TAIWAN

Diamond

麗娜 施

- HONG KONG

International Diamond

Patrick Menzies

- US

International Diamond

Ursula Streil

- GERMANY

Presidential Diamond

Darnis

- INDONESIA

Diamond

Mark Anthony Lapurga

- PHILIPPINES

Diamond

Ramon Angelo Mendoza

- PHILIPPINES

International Diamond

Sabine Sommerfeldt

- GERMANY

International Diamond

Natalia Astashonok

- RUSSIA

Presidential Diamond

Alfredo Jaramillo

- US

International Diamond

Bayasgalan Dashravdan

- MONGOLIA

Presidential Diamond

Galina Lesnik

- RUSSIA

International Diamond

Eunha Bond

- US

Presidential Diamond

Eduard Hutagalung Ir

- INDONESIA

Presidential Diamond

Urandelgerekh Chimeddagva

- MONGOLIA

International Diamond

Julia Plöger

- GERMANY

Diamond

Henry Jayme

- PHILIPPINES

Presidential Diamond

Franz Thiessen Wiebe

- MEXICO

International Diamond

Rochellen Quibod

- PHILIPPINES

International Diamond

平平 施

- HONG KONG

Presidential Diamond

Nena Nono

- PHILIPPINES

Diamond

Cristian Javier Sabando Gutierrez

- ECUADOR

Presidential Diamond

Kyung Ae Chung

- US

Presidential Diamond

Tserensonom Luvsandash & Oyundalai Namsrai

- MONGOLIA

International Diamond

Abel Roman

- US

Presidential Diamond

Carlos Paguada-Gomez

- US

Diamond

Gantumur Baatar

- MONGOLIA

Diamond

麗茹 許

- HONG KONG

Diamond

Emeline Uytesy

- PHILIPPINES

International Diamond

Raymond Ralph Mendoza

- PHILIPPINES

Presidential Diamond

Zoila Garcia

- US

Diamond

Doris Alvarez Velez

- COLOMBIA

Diamond

Vilma Quibod

- PHILIPPINES

Presidential Diamond

Gaisha Utesheva

- KAZAKHSTAN

International Diamond

Darwin Mendoza

- US

International Diamond

Ariunaa Jagdagsuren

- MONGOLIA

International Diamond

Christina Fernandez

- PHILIPPINES

Presidential Diamond

Ilich Lopez Rodriguez

- MEXICO

Diamond

Ramon Mendoza

- PHILIPPINES

Gold International Diamond

麗遠 余

- HONG KONG

Diamond

Rosa Melendez Torres

- MEXICO

Diamond

Gerald Anthony Henry Jr.

- EMERGING MARKET

Presidential Diamond
Special
Awards