Recognize, Appreciate, and Celebrate
Whether it's products that support physical well-being, or the opportunity to experience better financial security, 4Life lives by the philosophy of Together, Building People®. Our recognition program serves as an extension of this core value and is based on the appreciation and edification of our family of distributors.
President's
Club
Meet the prestigious group of new President's Club members!
Fanny Meza

International Diamond

ECUADOR

Michael & Laura Rivera

International Diamond

US
Distributor
Achievements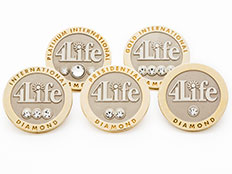 Summit
Platinum Edition

Grace Chun & Lee Sun Woo
Platinum International Diamonds

Platinum International Diamonds Grace Chun & Lee Sun Woo from South Korea share their exciting journey to success with 4Life.
Latest Rank
Advancements
Lilly & José Ángel Sánchez

- US

Platinum International Diamond

Shada Pravinkumar

- INDIA

Diamond

Teresa Fraga

- US

International Diamond

Adolfo Thomas Benjamin

- EMERGING MARKET

Diamond

Beatriz Ramirez

- US

Presidential Diamond

Sharel Teoh

- MALAYSIA

International Diamond

Yustriana

- INDONESIA

Diamond

Livi Swu

- INDIA

Presidential Diamond

Blanca Veizaga Jattaco

- BOLIVIA

Presidential Diamond

Margarita Arias

- US

Presidential Diamond

Lynyers Fermin

- EMERGING MARKET

Presidential Diamond

Gan Syn June

- MALAYSIA

International Diamond

Sonia Torresano

- US

Diamond

Sanjana S Chari

- INDIA

International Diamond

Lim Chee Kheng

- MALAYSIA

International Diamond

Zenon Rojas

- US

Diamond

Dennys Mercedes Quiroz Loor

- ECUADOR

Presidential Diamond

Gloria Esquivel

- US

Presidential Diamond

Kanakambal A/P Krishnan

- MALAYSIA

Presidential Diamond

Eric Gutierrez

- US

International Diamond

Jhonny Zapata & Dayana Errante

- US

International Diamond

Rosmery Quiroga Vargas

- BOLIVIA

Presidential Diamond

Itza M Ruiz De Lucero

- PANAMA

Diamond

Xena Wilma Pratiwi Rieuwpassa

- INDONESIA

Diamond

Maria Del Rosario Moroyoqui Sandoval

- MEXICO

Diamond

Lim Kim Geok

- MALAYSIA

International Diamond

秋雅 施

- HONG KONG

Diamond

Reyes Espinosa

- US

International Diamond

Maria Angeles Sanchez Nieto

- SPAIN

Diamond

Isabel Rodriguez Sanchez

- US

Presidential Diamond

Marcia Jannette Guzman Mejia

- BOLIVIA

International Diamond

Gwon Suk Hee

- SOUTH KOREA

Diamond

Byambajargal Banzragch

- MONGOLIA

Presidential Diamond

Mirley C. Serna

- US

International Diamond

Catherine Koay

- MALAYSIA

International Diamond

Yoo Young Sook

- SOUTH KOREA

Presidential Diamond

Clementina Nena Beron

- US

Gold International Diamond

Kang Hyo Sim

- SOUTH KOREA

Diamond

Chandan Sharma

- INDIA

International Diamond

Ricardo Zapata

- EMERGING MARKET

International Diamond

Lucia Gonzalez

- US

International Diamond

Tan Chia Huay

- MALAYSIA

Presidential Diamond

俊婷 梁

- HONG KONG

Presidential Diamond

Julian Dcruz

- INDIA

Diamond

Walter Wilfredo Valdivia Caceres

- BOLIVIA

Presidential Diamond

Alex Zapata

- EMERGING MARKET

International Diamond

Supriya Umesh Naik

- INDIA

International Diamond

Jesus M Robles Colon

- PUERTO RICO

Diamond

Elizabeth León Hernández

- MEXICO

Gold International Diamond

Luz Emith Requiniba Cano

- COLOMBIA

Diamond
Special
Awards